DFA Receives Eden II's "Above and Beyond Award" - September 2014
Click here to view the full article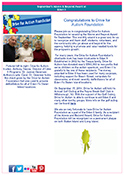 DFA XII - A Huge Success
The Drive for Autism Foundation is pleased to announce that its annual golf event, Drive for Autism XII was successful in raising $41,000. Early morning showers did not diminish the enthusiasm of one hundred and ninety seven golfers' who enjoyed a great day of golf at Royce Brook Golf Club in Hillsborough, NJ on September 16, 2013.
The Drive for Autism Golf Outing which has been held since 2002 has raised and distributed $500,000 to local school programs. Previous beneficiaries of grants have been Morris Union Jointure Commission (New Providence, NJ), Union County Educational Services Foundation/Crossroads School (Westfield, NJ), Educational Partnership for Instructing Children, Paramus, NJ, Eden II/Genesis Programs (Staten Island, NY), The Children's Institute (Verona, NJ),and Seton Foundation/Mother Francheska Elementary School (Staten Island, N.Y) and the New Providence School District.
Grant recipients use money to fund Health and Fitness Programs, Social Skills Programs, educational curriculum and teacher training, a van for community trips and transportation to job training centers, laptop computers, computer touch screens, iPads, video projectors and educational toys and games
The Drive for Autism Foundation would like to thank all participants, donors, sponsors and volunteers for making our twelfth event a successful one.
Living with Autism:
"Friends Like You, Friends Like Me" is a program at Children's Specialized Hospital in New Jersey that encourages children to discover similarities and appreciate individuality in every child, including those with autism.
In this segment of the FiOS1 News Special, Living with Autism, we take a closer look at the program that helps to build awareness and encourage inclusion, respect, and friendship between children and teens of all abilities.
Click here to see the full report from FIOS1 NewsSI Live: Read the full story here
See more about the "Friends Like You, Friends Like Me" program here.


Drive for Autism Foundation
The Drive for Autism Foundation is a public charitable foundation that was established to raise funds and distribute them to schools and non-profit organizations committed to the education and treatment of persons with diagnosis' under the Autism spectrum. We have concentrated our fundraising events and our grant recipients to two locals: Staten Island and Union/Morris Counties in NJ. These locations hold special places in our hearts because we have grown up and lived in these areas most of our lives. We are a local charity that believes we can make a major impact locally and affect the lives of these children in a positive way by supporting programs that will provide special education as well as social and recreational programs.
The initial funds to establish the foundation were donated by Thomas & Tara Trezza of 11 Alison Ct., New Providence, NJ 07974, and are deposited in a bank account at Wachovia Bank in New Providence, NJ under the name Drive for Autism Foundation. The foundation is recognized as a 501(3) (C) non-profit tax exempt organization.